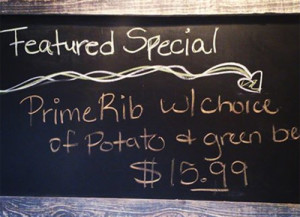 Looking for just the right dinner plans tonight and don't want to drive out of Sandy?
Well stay local, and come into Sandy Family Restaurant, your new favorite hometown restaurant for our super delicious prime rib dinner, complete with baked or mashed potatoes, and veggies.
This featured special won't break your wallet, but will fill your belly.
A definite treat to begin the weekend right.
Bring the family, our menu has something for everyone.
We'll see you when you arrive.